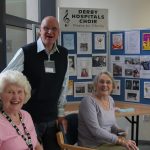 Please accept our many thanks to our patrons and friends for making the 2010 fund raising activity our best ever achievement so far.  In this respect, the Christmas Concert was a great success with 1158 tickets sold.
The Assembly Room capacity is 1236, so we almost had a full house.  Nevertheless, this was the largest number seats we have ever sold for any of our annual concerts.
.
Also, we are most grateful to all the choir members and friends that where involved with the many aspects of running the prize draw.  The actual ticket sales reached an all time high with more than 3000 tickets sold.  In addition, there is a special thank you to the Derby Branch Of Parkinsons for all their hard work in acquiring all the prizes and then running the prize draw stand on the night of the concert.  The Choir and the Derby Branch of Parkinsons would particularly like to thank all those persons and companies that kindly donated the many prizes.
Our advertisers have also helped us to increase the funds raised for this year's charity.  In this respect we are very much obliged to:
Barclays Bank
Flint Bishop Solicitors
Wilsons Pharmacies
Accrofab Engineering
Blythe Squires Wilson Chartered Accountants
Prime Care At Home
Scargill Mann & Co
Keith Stringer Electricals
Findern Garden Centre
Brookfields Nursing Homes
East Midlands Business Services
Clark & Partners Mobility Centres
Strutt's of Allestree
People Transfer Service
Denby Pottery Visitor Centre
East Midlands Airport
B&M Smith Photographers